Welcome to Episode 24 of the Retro Disney World Podcast: "The Golf Resort". We appreciate your support and hope you have been enjoying each and every episode. Be sure to check out some of our previous shows.
Comments & Corrections
To start this episode, we discuss some emails regarding the Carousel of Progress. Animatronics, the father figure and lots of detail from the whole group.
0:02:57 From Mike McGuiness- song Two Silhouettes – Dinah Shore (Make Mine Music 1946) can be heard on Carousel of Progress but also Uncle(cousin) Orville can be heard singing "The World Owes Me a Living" from 1934 Silly Symphonies cartoon, The Grasshopper and the Ant.
0:03:45 Dianne Jones email question inquiring if the robins from the Carousel of Progress were the same audio animatronics from Mary Poppins
How said that they were not the same and that he would look in to it more.
0:08:15 Reese emailed in asking what everyone's take on the Carousel of Progress family, one family or many?
0:11:09 Justin Hermes emailed this fun fact the Carousel of Progress family is called the Peabody's and they are from Middleburg USA
Listener Mail
Chad wrote us mentioning he purchased some shirts from us. We also get into Chad's question about the Gold Key Vacations, which Todd has first hand knowledge of. We also got some tweets this month, discussing World Key and which attractions might have scared us. For questions, comments and concerns, please write us – podcast@retrodisneyworld.com
0:17:46 Listener mail bag
-email from Chad about the Gold Key Plan
Todd had the Gold Key Vacation Package 1st time it has come up
0:22:15-Drunk @Disney tweeted about Epcot removed Worldkey March-June 1999 and was replaced with telephones
0:22:52 kate/tilly asked if there was any non scary attractions that scared them.
Audio Rewind
Congratulations to our winner from last month, Suzanne Gill, she guessed "Journey Into Imagination". Suzanne won a the brochure and Vacationland package! If you think you know the answer to the audio rewind this month, email us at podcast@retrodisneyworld.com for a chance to win the first Walt Disney World Cookbook: Cooking with Mickey. Send your guesses by November 28, 2016 – All answers will also be entered into the drawing for our next BIG PRIZE, which is a huge prize pot slowly built over the course of 2016.
Prize Pot Items
As you may have heard, our year end prize this year will include a different prize from every month. So far, we have an Orange Bird Yo-Yo from January, a brochure from The World of Motion given away in February, the March prize is a Golf Resort Mickey head logo golf bag tag, an Epcot Center salt and pepper shaker set, a Disney Glass Candy Dish, Tomorrowland Handbook, 1984 Disney News Magazine, The Walt Disney World Explorer CD Rom, expired Discovery Island Tickets, a Frontierland Viewmaster Slide, the WDW Tencennial Coin, a WDW Pocket Protector, and new this month……..the RetroWDW Pin Collection! The pot will continue to grow each month with new and exciting prizes! To win the prize pot in December, just answer any audio rewind question each month for one entry.
Main Topic
For this month, we talk Golf. The Golf Resort is one of those early attractions that most people have never heard of. We take you back to the origins of golfing at WDW. Big thanks to George Taylor, Foxxy, and Passport to Dreams; we used some of their expertise to guide this podcast. Brian starts us off by explaining how this resort came to be and from there we head into the Trophy Room for some eats and also delve into room sizes. This little known location, which is gone but not forgotten now, is truly going take you back. We all learned lots during this episode and we hope you do too, enjoy!
0:31:17 MAIN TOPIC GOLF RESORT
BIG THANKS TO George Taylor (Imaginerding)
and Foxxy (passport to dreams old and new)
Magic Kingdom opening day back in 1971 with 2 Golf Courses Disney's Palm Golf Course Disney's Magnolia Golf Course. The Golf Inn was surrounded by two 18-hole, par 72 championship golf courses, the Palm Course and the Magnolia Course.
The (Disney) Golf Resort from 1973 – 1986
The Disney Inn from 1986- 1994
Shades of Green from 1994- to current
Highlight of the Golf resort was the first fully computerized check in system and house keeping. Had larger rooms then the Poly. The pool had a water feature of 3 columns of with sprinklers
First floor had pool views and the proshop
second floor Main dining Trophy Room
0:44:57 Highlights from the menu include
French fried Ice Cream ,BANANA BOGEY,
breakfast 0:46:15
"honeymooners breakfast for two" strip sirloin steak, scrambled eggs,potatoes, break roll, half a bottle of champagne
0:47:15 room service
West Chester classic – roasted long island Chester boneless style duck. and 5pm character dining the first of its kind!
golf proshop 0:55:32
sign up for the Golf Studio and have their swings videotaped and analyzed and critiqued by a golf professional. you would take home a audio tape on tips to improve your swing
late 80s projection screen to hit the ball on the screen and the computer could show you where it lander and gives your feed back
RetroWDW Merchandise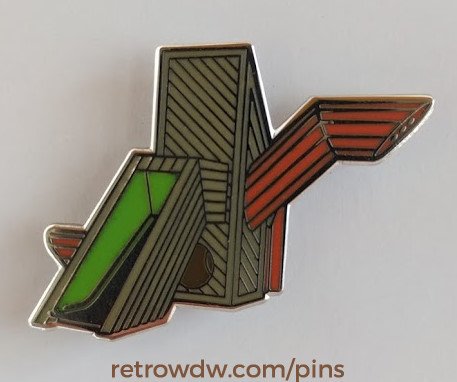 Fantasy Pins are here! We have a great set of custom pins for sale now. Be sure to get your pins and add them to your collection as these are limited time and won't be around forever.
Be sure to get your shirt, iPhone case, tote bag, pillow or coffee mug today: www.retrowdw.com/supportus
Some of Our Latest Designs
The RetroWDW Lake and Lagoon Tour
Much faster than anticipated, the Lake & Lagoon Tour sold out in record time. We are accepting standby reservations, which will basically be a waiting list, in case an opening pops up or if we have the ability to open up another boat tour. Thank you so much for your tour reservations and we are super excited to take this cruise with you all! We will all be around all weekend during Destination D, so please check our social media accounts for postings on where we will be and how you can meet us all.
1:15:50 Destination D excitement, lake and lagoon tour
1:16:32 talks about merch
1:20:15 end and talk about next month
and talk 25th anniversary for the 25th
Listener Memories
Keep the calls coming, sharing your memories and giving us feedback. If you would like to call and leave us a message, please dial 978-71-RETRO.
Tweet at us, send us a Facebook post or message, tag us on Instagram or send us your thoughts.
We hope you have enjoyed this episode! If you have any questions, suggestions or find errors please email us podcast@retrowdw.com.
Next Month
Check back with us very soon for Episode 25 where we take you to the 25th Anniversary Celebration! Brian is super pumped to tell you all about this entire experience, in honor of our 25th episode.
Special thanks to Samantha C for updated/enhanced show notes (April 2021)